"Beautiful Dreamer"

Coachella Valley Premiere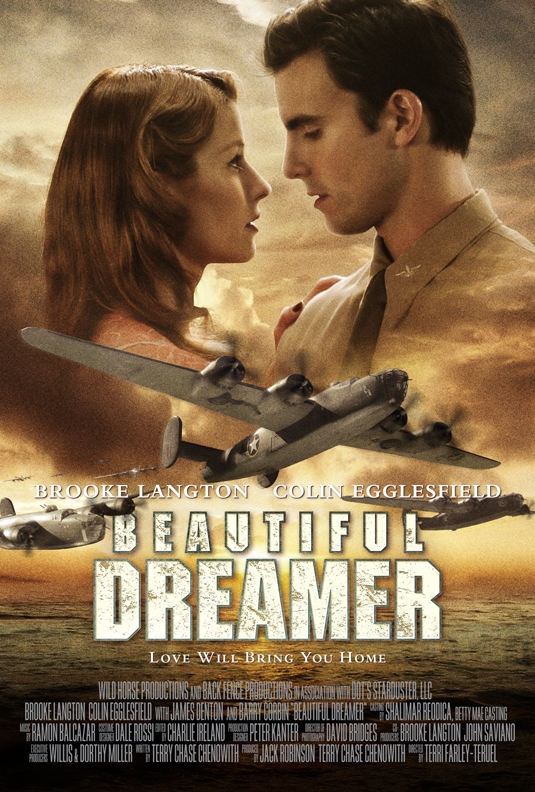 Saturday - June 9, 2007
Doors Open for Complimentary Refreshments at 9:00 AM
Film Begins Promptly at 9:30 AM
Camelot Theatres
2300 Baristo Road
,
Palm Springs, CA
--------------------------------------------------------------------------------
Q&A to follow the film screening with special guests
Jack Robinson, Producer and
David Bridges, Director of Photography
BEAUTIFUL DREAMER is a compelling love story set against the backdrop of World War II. It is a heartfelt drama about the beginning of love, love lost and love regained. Claire Kelly was sure her world had been torn apart forever when she lost her husband, Joe to the ravages of war. Joe, a B-24 pilot, taught to fly as a boy by his grandfather, is shot down over Europe during World War ll and is declared dead. Claire is forced to face the reality that Joe is gone and struggles to move on with her life. Two years later, in an amazing twist, Claire meets Joe's co-pilot. He gives her new information about Joe and the crash, compelling her to hit the road in search of answers about Joe's death and closure.
Festivals & Awards:
Best Feature Film: Australian International Film Festival, Melbourne; Cackalacky Film Festival, Charlotte, N.C; LA Femme Festival, Los Angeles; Central Florida Film Festival; Best Feature and Audience Favorite, Temecula Valley International Film Festival, Sedona International Film Festival; Delray Beach Film Festival

Review:
"With stunning visuals, and a moving story, this film is one that will remind audiences what they love about the movies." The Times-Herald

Directed by: Terri Farley-Teruel
Written by: Terry Chase Chenowith
Genre: Drama
Country: USA
Language: English
Run time: 88 minutes