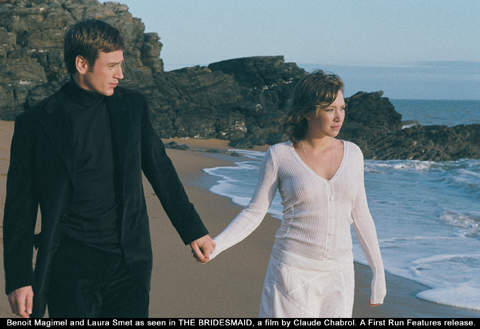 Saturday - January 27, 2007
Doors Open for Complimentary Refreshments at 9:00 AM
Film Begins Promptly at 9:30 AM
Camelot Theatres
2300 Baristo Road
,
Palm Springs, CA
--------------------------------------------------------------------------------
It's love at first sight when bridesmaid Senta meets handsome young Philippe at the wedding of his younger sister. Though their passion for each other is as obvious as it is unquestionable, Philippe soon discovers that Senta's life is shrouded in mystery and her stories surrounding her past anything but believable. When one day she asks Philippe for proof of his love, Philippe must come to terms with who his lover might really be. Is this just another of Senta's fantastic tales and how far is Philippe willing to go, even as his love for her seems to know no limits?
Festivals:
Venice Film Festival, Italy
Arras Film Festival, France
European Film Festival, Poland
Sarasota Film Festival, FL
Maine International Film Festival
Awards:
Flanders International Film Festival, Nominated, Grand Prix, Claude Chabrol
Reviews:
"Deliciously twisted! …(A) deceptively understated and finally ferocious film."
- New York Times

"Insidiously chilling!" - Boston Globe

"Chills with a sophisticated touch…makes a deep, dark impression."
- New York Newsday

"When the master of French thrillers Claude Chabrol meets the
mistress of English suspense fiction Ruth Rendell, the result is a potent
if very classic blend. …satisfying … gradually raises the tension
until film's final revelation"
- Variety

Director: Claude Chabrol
Based on a novel by: Ruth Rendell
Distributor :First Run Features
Drama
French with English subtitles
Run Time: 110 min.
Rating: NR
Official Site w/Trailer