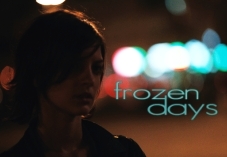 Saturday - April 28, 2007
Doors Open for Complimentary Refreshments at 9:00 AM
Film Begins Promptly at 9:30 AM
Camelot Theatres
2300 Baristo Road
,
Palm Springs, CA
--------------------------------------------------------------------------------
Meow is a young woman roaming the streets and nightclubs of Tel Aviv. She decides to meet Alex, her Internet chat buddy. They plan to meet in a nightclub but a suicide bombing prevents their meeting.
She survives the attack and after she finds Alex in the hospital, in a coma, she moves into his empty apartment.
AWARDS & FESTIVALS
Sydney Film Festival, Australia; Shanghai Film Festival, China; Munich Film Festival, Germany; AFI film festival, Los Angeles; Boston Jewish Film Festival; Sao Paolo Film Festival, Brazil; Warsaw Film Festival, Poland, Best Feature film award in the Haifa Film Festival; Anat Klausner won the Israeli critics choice award for best actress.
"Wow is the word for the performance of newcomer Klausner"
- Variety.com
"Danny Lerner has succeeded in making an intense movie"
-
Reel News
Written and Directed by: Danny Lerner
Distributor: Bleiberg Entertainment
Genre: Drama
Country:
Israel
Hebrew w/English subtitles
Run time: 90 minutes
Official Site



with: Dark Night (Short)

An Israeli military jeep, returning to base from patrol late at night, strikes a landmine while still in hostile territory. Two of the soldiers survive the blast only to be trapped in a Palestinian town teeming with militants. They seek refuge in the nearest house, inhabited by a Palestinian couple.
AWARDS & FESTIVALS:
Jerusalem International Film Festival; NY Israeli Film Festival; Rome Festival of Short Films; Palm Springs International Festival of Short Films; Chinese Academy Beijing Festival of Young Cinema; San Diego Jewish Film Festival; Hartford Jewish Film Festival
Nominated for a 2005 American Academy Award for Best Foreign Film in the Student Short Film Category; Special Mention - Jerusalem International Film Festival; Audience Choice Award for Best Student Short Film, NY Israeli Film Festival; Audience Award, Palm Springs International Festival of Short Films; Best Short Film, Chinese Academy Beijing Festival of Young Cinema; Best Film, Rome Festival of Short Films
Written & Directed by: Leonid Prudovsky;
Distributed by: Dragoman Films;
Drama; Country: Israel;
Hebrew w/English subtitles
Run time: 30 minutes

Official Website