"The Glenmoore Job"

Coachella Valley Premiere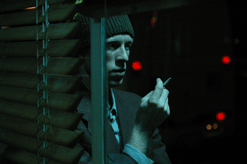 Saturday - February 17, 2007
Doors Open for Complimentary Refreshments at 9:00 AM
Film Begins Promptly at 9:30 AM
Camelot Theatres
2300 Baristo Road
,
Palm Springs, CA
--------------------------------------------------------------------------------
Warren steps out of prison and straight into a self-help group whose idea of therapy is to play board games. But if he has to humor these weirdo's, like Sally, a cat-burglar in training, Tom, a kid with anger problems, and Bev and Clem, a pair of old ducks with a penchant for poker. so the cops will leave him alone while he does a 'job' for a mate on the inside, then 'roll the dice'. It's a dirty job, but Warren's got to do it. After five years inside, Warren (Simon Lyndon) would much rather be lying under a palm tree up north, than creeping around alleys in a hole like Glenmoore. But first he has to deliver on a promise he made to his cellmate Sumo (Bruce Alexander). Well, Warren can deal with that. Trouble is, the group doesn't know how to deal with Warren. They haven't had a new member in years, let alone one who is a real criminal, and it turns their cozy world upside down. Allegiances get tested, secrets come out, things go missing. And somebody in the group wants Warren gone.
Festivals & Awards:
Anchorage International Film Festival
Mill Valley Film Festival
Melbourne Traveling Film Festival
Geelong: Opening Night Film
Canberra International Film Festival, Official Selection
St Kilda Film Festival: Official Selection
Writer & Director: Greg Williams
Distributor: Galloping Films Distribution
Runtime: 52 minutes
Country: Australia
Language: English
Rating: NR
Official Site w/Trailer