Admission Policy
---
Complimentary for Current Members
Guest (Non-Members)
$15.00
at the door


---
Doors Open
9:00 AM

Screening Start
9:30 AM


---
"Pope Dreams"

Coachella Valley Premiere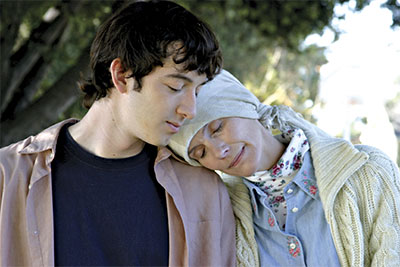 Saturday - March 3, 2007
Doors Open for Complimentary Refreshments at 9:00 AM
Film Begins Promptly at 9:30 AM
Camelot Theatres
2300 Baristo Road
,
Palm Springs, CA
--------------------------------------------------------------------------------
Q&A following the film with SPECIAL GUESTS
Phillip Vaden (Actor), Julie Hagerty (Actor), Stephen Tobolowsky (Actor),
Patrick Hogan (Writer/Director), Steve Loh (Producer)

In the vein of Good Will Hunting and Garden State, POPE DREAMS is a coming of age tale about a young man at a crossroads in life. Andy Venable (Phillip Vaden) is a directionless 19-year old boy who works for his dad (Stephen Tobolowsky – Groundhog Day, Memento) in a warehouse during the day and plays drums in a loud heavy-metal band at night. His only clear goal at the moment is to get his sick mother (Julie Haggerty – Airplane, Lost in America), a devout Catholic, to meet the Pope before she dies. While he's busy with that, he falls for a girl who's totally out of his league. But dreaming is easy, it's reality that's hard.
Festivals & Awards:

Grand Jury Winner, Best Narrative Feature, Atlanta Film Festival
Jury Award Winner, Special Recognition, Stony Brook Festival
Best Feature, both Jury & Audience Awards & Best of Fest, Newport Beach Film Festival
Closing Night Screening, USA Film Festival
Anchorage International Film Festival
Dakino International Film Festival, Bucharest, Romania
Cinema Society of San Diego
Lake Forest Film Festival

Reviews:


"A heartfelt coming of age story...boasts sensitive performances, direction, and dialogue."- The Hollywood Reporter

"Pope Dreams is a winner!... Unique vision and sublime writing that captures characters filled with incomparable heart." - Film Threat Magazine

"What a sweet, inspiring movie. An indie gem!" - Tiffiny Kaye Whitney, L.A. Splash Magazine

"Full of rich, conflicted characters and deep emotional undertones." - Richard Chang, OC Register

"A funny, dark, dreamy coming-of-age story." - Tom Maurstad, Dallas Morning News

Writer/Director: Patrick Hogan
Producer: Steve Loh
Distributor: Pescadito Productions
Drama: English
Run time: 106 min
Official Site w/Trailer
with a short
SIMPLE SONG OF FREEDOM



Special Guests:
Students from James Workman Middle School


The James Workman Middle School of Palm Springs, CA perform an updated version of the Bobby Darin classic anti-war song "Simple Song of Freedom". Intercut with images of children from Afghanistan, this musical plea for peace represents the voices of children everywhere.
USA, 2006, (5 min), Produced by David Rothmiller & LD Thompson

SIMPLE SONG OF FREEDOM premiered at the Global Peace Film Festival in Orlando, FL and will screen at the Delray Beach Film Festival in March.