"Stranded"

Southern California Premiere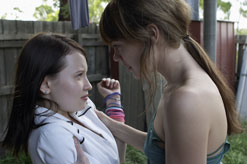 Saturday - February 17, 2007
Doors Open for Complimentary Refreshments at 9:00 AM
Film Begins Promptly at 9:30 AM
Camelot Theatres
2300 Baristo Road
,
Palm Springs, CA
--------------------------------------------------------------------------------
Seventeen-year-old Claudia (Emma Lung) bickers constantly with her younger sister Penny (Emily Browning), and can't understand the passivity of her father, Rex (Robert Morgan). The household is haunted by the absence of the girls' mother, and somehow they have just accepted their circumstances involving no school, no money and a cramped home with an indoor aviary as normal. That is, until a strange woman dumps her two children on Rex, and when he fails to protest, Claudia decides she has had enough, and plans to leave for Queensland. She gets as far as the car without wheels in the driveway, where she sets up home, vowing to earn enough money to buy those wheels that will speed her away from the madness. A deceptively simple story, beautifully delivered, Stranded is a smart, distinctive and occasionally unsettling coming-of-age comedy.
Festivals & Awards:
Shanghai TV Festival, Emma Lung, Best Actress
Sydney International Film Festival, Dendy Award for Best Long Short
2006 AFI Award Outstanding Achievement in Short Film Screen Craft, Emma Lung (acting)
AFI Award Best Short Fiction Film, Stuart McDonald (director)
AFI Award Best Screenplay in a Short Film, Kathleen O'Brien
Film Critics Circle of Australia Awards, 2006, Best Australian Short Film, Stuart McDonald
Director: Stuart McDonald
Distributor: Galloping Films Distribution
Writer: Kathleen O'Brien
Runtime: 52 minutes
Country: Australia
Language: English
Rating: NR
Official Site w/Trailer