The Desert Film Society
presents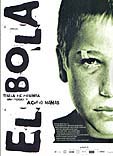 El Bola
(The Pellet)

Saturday, August 2, 2003
Camelot Theatres
Complimentary to all Desert Film Society Members
(Members use DFS Screening Coupon)
$15.00 per person for Non-Members
9:00 a.m. - Theatre Doors Open
(Complimentary Coffee & Muffins)
9:20 a.m. - Introduction of Film
9:30 a.m. - Film Presentation
Q & A Session Following the Film
Director Achero Mañas' El Bola
About the film:
El Bola (The Pellet) is a 12-year-old boy, raised in a violent and unforgiving environment. Embarrassed by his family life, he retreats from his classmates, engaging them only through a dangerous game. The arrival of a new boy at school, from whom he learns a new definition of friendship, leads to the discovery of a family where communication and love prevail over domination and violence.
The film parallels the lives of a caring father unable to connect with his willful yet loving son, and that of distant Pablo (El Bola) and his father who is incapable of giving him the love he needs, replacing it with something far more sinister. One imprints his son in an improbably gentle manner with a tattoo stylus, the other brutally with his fists. Told through both the children's and adults' points of view, Achero Mañas' El Bola is a stirring narrative, lodging deep in memory.
El Bola has won over 30 international awards as well as U.S. appearances at Lincoln Center, San Francisco International Film Festival and American Cinematheque. The following is a sampling of El Bola's international awards:
4 Goya Awards (Spain's Academy Awards):
Best Film
Best Emerging Director
Best Original Screenplay
Best Emerging Actor
Best Film - Avignon Film Festival
"Fassbinder Award" and Best Screenplay - European Film Awards
Special Prize Ocic - San Sebastian International Film Festival
Best Spanish Film granted by the Spanish association of film producers
Best Film granted by the Andalusian association of screenwriters
Best Emerging Director granted by the Actor's Guild of Spain
"Alfa Y Omega" Award for best film.