desertfilmsociety- october screening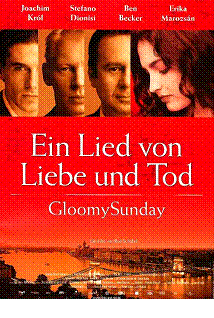 GLOOMY SUNDAY
Saturday, October 4, 2003
Members: Please present screening coupon
Non-Members: $15.00 at the door
Camelot Theatre Doors Open at: 9:00 a.m.
Coffee & Muffins Available
Introductions: 9:20 a.m.
Film Screening: 9:30 a.m.
Q&A immediately following the film presentation
FILM DESCRIPTION
Budapest in the thirties. The restaurant owner, Laszlo, hires the pianist, András, to play in his restaurant. Both men fall in love with the beautiful waitress, Ilona, who inspires András to his only composition. His song of Gloomy Sunday is, at first, loved and then feared, for its melancholic melody triggers off a chain of suicides. The fragile balance of the erotic ménage à trois is sent off-kilter when the German, Hans, falls in love with Ilona as well.
"A remarkable movie." -- Loren King, CHICAGO TRIBUNE
FILM AWARDS
Winner: Bavarian Film Award -- Best Direction
Winner: Bavarian Film Award -- Best Cinematography
Winner: Audience Award -- Coachella Valley's Festival of Festivals
Nominated Outstanding Feature Film -- German Film Awards
Nominated Outstanding Individual Actor -- German Film Awards
Winner: Screenplay Award -- German Screenplay Awards
Winner: Guild Film Award -- Best German Film -- Guild of German Art House Cinemas
Winner: Honourable Mention -- Mar Del Plata Film Festival
RUNNING TIME: 112 Minutes
COUNTRY: Germany/Hungary
LANGUAGE: German
SUBTITLES: English