The Desert Film Society & Film Movement
Present
"MARION BRIDGE"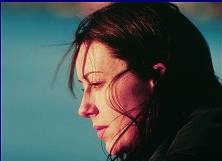 Saturday, July 12, 2003
Camelot Theatre Doors Open at 9:00 a.m.
Film Introduction at 9:20 a.m.
Film Presentation at 9:30 a.m.
Discussion Immediately Following The Film
This screening is complimentary for DFS members
(DFS members please present a screening coupon)
Non-Members pay $15.00 per person at the door.
MARION BRIDGE
Director
Wiebke Von Carolsfeld
Cast
Molly Parker, Rebecca Jenkins and Stacy Smith
Description
Marion Bridge made its world premiere at the 2002 Toronto International Film Festival, winning the Best First Feature award. According to director Wiebke Von Carolsfeld, "I tried to keep it (Marion Bridge) real, organic and simple. A lot of energy was focused on illuminating emotions and on finding truth in the small moments." Starring actress Molly Parker, (Max, Center of the World, Sunshine) Marion Bridge speaks volumes about sibling and parental relationships with a beautifully realized tale of loss, healing and humor.
Agnes (Molly Parker), in the midst of a struggle to overcome her own self-destructive behavior, returns to Sydney, Nova Scotia, from Toronto because of the failing health of her mother, Rose (Marguerite McNeil). She is met by her older sister, Theresa (Rebecca Jenkins), a devout Catholic who has recently been dumped by her husband for a younger woman, and Louise (Stacy Smith), the middle child who has retreated from the outside world. Her arrival sets in motion a chain of events which allows the family to reconnect with the world and with each other.
Running Time: 90 minutes
Country: Canada
Language: English
WebSite: www.FilmMovement.com