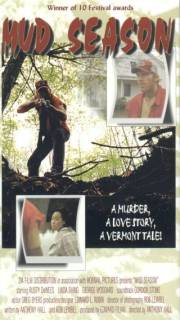 Saturday, April 12, 2003
Camelot Theatre doors open for us at: 9:00 a.m.
Introduction of Film-Maker Anthony Andrew Hall at: 9:20 a.m.
Film Screening commences at: 9:30 a.m.
Q. and A. Session with Mr. Hall immediately following the Screening
About the film:
Jerry, a backwoodsman and misunderstood loner, resides in a cabin outside a small Vermont town. When his shy "courting" attempts fail with the local girls he decides to visit the town brothel where his life is turned upside down. Song, an illegal Chinese immigrant, has been forced into prostitution who endures continual abuse by her less than gentlemanly visitors. Jerry finds her to be an unwilling partner and at her wits end. Song breaks into a rage, Jerry panics and seeks out the Madam to get his money back. The Madam refuses the refund, a skirmish develops, she is accidentally killed and Jerry flees. The following day Jerry finds Song hiding in the woods, unaware the Madam is dead and fearing retribution. Jerry takes Song in and together they learn about each other, about the eternal conflict between man and woman, about American culture, Chinese culture, and about right versus wrong.
The cast: Rusty DeWees, Linda Shing, George Woodard.




MUD SEASON Awards List:
Best Picture
Best Picture
Best Picture
Los Angeles MethodFest
SilverSand Film Festival
New Haven Film Festival


Best Director
SilverSand Film Festival
Best Actor
Best Actress
Best Supporting Actor
Los Angeles MethodFest
Los Angeles MethodFest
Los Angeles MethodFest
Rusty DeWees
Linda Shing
George Woodard
Grand Jury Prize
New Haven Film Festival
World Premiere
Slamdance Film Festival
Park City, Utah
Opening Film
Green Mountain Film Festival