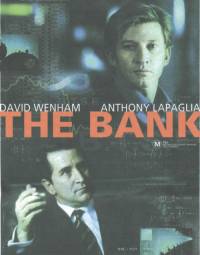 Saturday, June 7, 2003
9:00 a.m. - Camelot Theatres Doors Open
9:30 a.m. - Screening
Q. & A. Session following the Screening
DFS Members use Screening Coupon for this Movie
Non-Members - $15.00 per person
The Bank
Anthony LaPaglia (Lantana, The Guys, and star of the current CBS crime drama Without A Trace) and David Wenham (The Lord of the Rings: The Two Towers & The Return of the King) star in this Australian thriller, THE BANK, written and directed by the very talented Robert Connolly. It is a film about corporate greed, corruption and revenge, where humanity collides with the madness of the trading floor, and about the threat of the public's exploitation at the hands of big business.
When brilliant, young Mathematician Jim Doyle (Wenham) is on the verge of discovering a formula that could predict the fluctuations of the stock market, he is quickly taken under the wing of slick Centabank CEO, Simon O'Reilly (LaPaglia). Together, these two men will play a deadly game of deception and revenge, while initiating one of the biggest banking scandals in history.
The Bank delivers edge-of-your-seat suspense, and takes a hard look at morality in the corporate world as it hurtles towards its unforgettable and shocking conclusion.
Awards
Best Original Screenplay - Australian Film Institute Award
Best Editing - Australian Film Critics Circle
Best Music Score - Australian Guild of Screen Composers
Silver Award - Australian Cinematographers Society
Robert Connolly - Writer/Director
The Bank is Robert Connolly's first feature film as writer/director. He is a graduate of the Australian Film, Television and Radio School, where he directed award-winning short films, including Mr. Ikegami's Flight, Rust Bucket and Tunnel Vision. Connolly joined Arenafilm six years ago, and in 1999 was nominated by Variety as one of the top ten young film producers to watch.
The Boys, Connolly's first feature co-produced with John Maynard and directed by Rowan Woods, a grim drama about criminal elements in Sydney's western suburbs, had its world premiere in competition at the 1998 Berlin International Film Festival. It was nominated for a record thirteen Australian Film Institute Awards and won six Australian Film Critics Circle Awards, including Best Film.
Connolly also produced, with Maynard, The Monkey's Mask, directed by Samantha Lang, which premiered at the Toronto Film Festival in 2000. Earlier, he worked in theatre as a producer and director. His stage productions included The Boys, Pearls Before Swine, and Rooted.