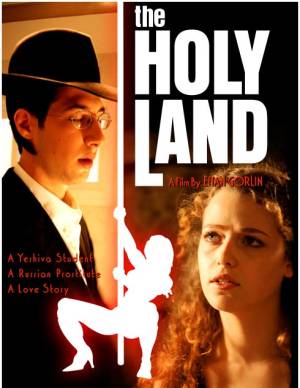 Camelot Theatres & the Desert Film Society
Present
A Special Filmmaker's Screening
Of One Of The Most Talked About Films This Summer...
"THE HOLY LAND"
FRIDAY, AUGUST 8, 2003
7:45 P.M.
Introduction and Q&A by
Director Eitan Gorlin and one of his lead actors (to be announced)
Complimentary Admission to All Desert Film Society Members!
Present your DFS Membership Card at the Box Office for a Complimentary Ticket
This special screening will be open to the public
and normal ticket prices apply: $7.00 general and $5.00 seniors
THE HOLY LAND - Directed by Eitan Gorlin
Starring: Saul Stein, Tchelet Semel and Albert Illuz
Mendy (Oren Rehany) is a young man living in Bnei Brak, Israel, struggling to keep his mind focused on rabbinical school. His family supports him and realize that adolescence involves soul-searching and discontent, but his teacher sees that, deep down, Mendy is full of lust, and he tells Mendy to rid himself of these desires by visiting a prostitute in Tel Aviv. At a brothel called The Love Boat, Mendy falls head over heels in love with a Russian prostitute named Sasha (Tchelet Semel) -- a baby-faced rebel who secretly longs for an escape from her difficult life. Next, Mendy meets Sasha's boyfriend, Mike (Saul Stein) -- a gruff American who runs his own bar, a den where drunken Arabs and Jews mix merrily. Soon Mendy is working at the bar, living with Mike, and courting Sasha. Little does he know a dark political and criminal current runs through Mike's Bar, an d just behind it follows big trouble. Meanwhile, Mendy is asking himself important questions about God and life, but he's not finding any answers.
Despite its volcanic setting, THE HOLY LAND is, first and foremost, a coming-of-age story. Like the prodigal son, the innocent Mendy leaves the comfort and protection of his "pampered" upbringing in search of experience and gritty knowledge. Initially, it's all very exciting and fresh for Mendy.
THE HOLY LAND is also a love story between two young adults, Sasha and Mendy, fighting to make sense of and to navigate their way through a confusing adult world. "And what do they learn about the adult world?" asks the director, Gorlin. "That it encompasses ethnic hatred, sexual slavery, greed, terrorism, army brutality, fanaticism in God's name, blackmail, sexual frustration and emotional betrayal. So they decide to escape to Florida. People ask me if the same story could have been told elsewhere and I usually answer no. Short of animation, where else could Mendy have encountered so many ills and phenomena in a place so essentially holy and intoxicatingly beautiful?"