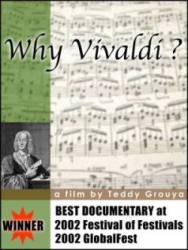 WHY VIVALDI?
Tuesday, March 18, 2003
7:30 p.m. - Camelot Theatre Doors Open
8:00 p.m. - Screening Commences
Q and A with Film-Maker, Ted Grouya, following the screening
NOTE: This is a "special" event and, therefore, DFS coupons will NOT be accepted for admittance, nor are the screening coupons transferrable to others.
Members will be asked to present their Membership Cards, only, to attend this screening, and a $15.00 fee will apply to each non-member who may wish to attend.
The impetus for this documentary film came about when people continued to ask Mr. Grouya why he had written a separate period piece screenplay on Antonio Vivaldi, the composer of "The Four Seasons." The film-maker asked the same question of people who were consultants to him on his script, and the result is this film.
The film focuses on contemporary individuals from a variety of backgrounds who, in some form or fashion, tell us "Why" they have dedicated their lives to the study, research, preservation and/or exploitation of Vivaldi, one of the most popular composers of all time.
We meet Mickey White, who is from England but who immigrated to Venice, Italy, Vivaldi's home town, in order to study Vivaldi's association with the Ospedale de la Pieta -- the care home for under-privileged girls whom he taught to play and to perform his music.
We go to Liverpool, England, and to the University of Liverpool's School of Music, to get to know Professor Michael Talbot, world-reknowned expert on Vivaldi and his musical history.
We learn from New York's Joe Szurly of Universal Classics Music that Vivaldi is the biggest-selling classical composer in the world today.
And we see all of this and more, juxtaposed with Federico Maria Sardelli and his Modo Antiquo Baroque orchestra as they perform Vivaldi's music in a florentine church -- one of the concert halls of so many years ago. Their passion is inspiring.
The film has shown in:
September 2002 - Figueira Da Foz, Portugal
November, 2002 - Festival of Festivals, CA
November, 2002 - GlobeFest 2002, CA
Special Film-Maker's Award
Best Documentary Award
Best Documentary Award
---
Ted Grouya
Filmography

WHY VIVALDI?
UNSUNG MELODY
JERKS
Various Student Films

2003 Docu
2000 Docu
1999 Feature
1977-1982
Director's Bio
Ted has been involved in film-making at various times for over 25 years. He first stated making movies at the age of 12 with a Bell & Howell Super-8 Camera, purchased with money made from mowing lawns in his neighbourhood.
Before graduating from UCLA, Ted got his first break in Hollywood as a production assistant in feature films. A short while later he got an opportunity to direct qa live telethon which raised $250,000 for a community theatre complex. Ted then went to Australia to attend graduate school where he obtained his Master's Degree in International Affairs. He wrote his second screenplay based on his thesis about the Iran Hostage Crisis. After a stint in the U.S. State Department, Ted has written sixteen scripts. His latest, entitled "900%," is now in development.
His latest film, "Why Vivaldi?" is a documentary about contemporary people who have, in some way, dedicated their lives to this famous Baroque composer.